Virat Kohli Gave An Epic Answer To Manushi Chhillar's Question. You'll Love His Reply
Manushi Chhillar hit the headlines after she made India proud by becoming the Miss World. Few weeks back, she was crowned Miss World and since then, she is getting all the deserved attention.
Right from her pictures, to her intelligence, everything has been talked about in the media. We know how smartly she tackled the final question in the Miss World Pageant.
Recently, the beauty got a good chance of questioning Virat Kohli. We were sure that just like her, even her question is going to be an extra-ordinary one.
The duo came face to face at CNN-News 18 Indian of The Year Awards 2017; Virat won the title of Indian of the Year 2017. Just like Manushi Chhillar, even Virat Kohli inspires many.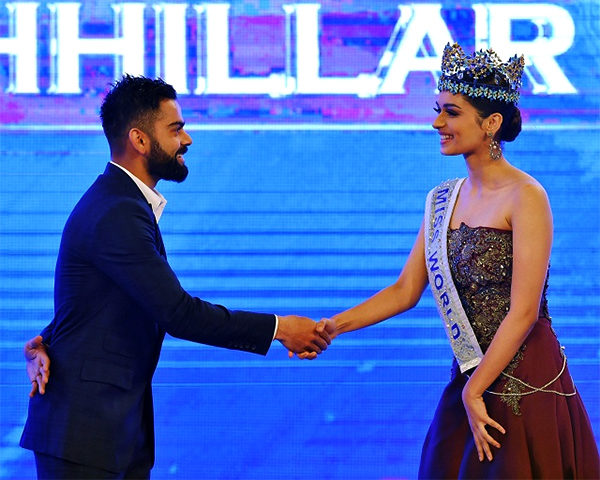 At the event, Manushi asked Virat,
"You are one of the best batsman in the world today and you've been such an inspiration. You've really given back to the society. But there are a lot of young people who draw inspiration from you. How would you like to give back for children, especially in the world of cricket?"
Even Virat gave a very smart answer. He said,
"Well, what's very important to understand is when you do what you do and you express yourself on the field, it has to be genuine and it has to be from the heart. Otherwise if people find out that you're trying to pretend, then they can never connect to you. I've never tried to be anyone else. I've always been myself; I always mention that people had a lot of issues with how I was, how I conducted myself, but I had never had any problems with that."
Watch the entire video here;